Elaine Thomas, CBE
Elaine Thomas ( nee Dean ) was born in 1950 and spent her early years in Accrington in Lancashire. She studied painting at Manchester Polytechnic before taking up a post as Fine Art lecturer at the Ulster Polytechnic in 1973. She remained in Northern Ireland for 23 years, continuing her art practice alongside her career in Higher Education. She became Head of the Department of Fine Art at the University of Ulster in 1986 and Dean of the Faculty of Art and Design and Professor of Fine Art in 1990. During her time in Northern Ireland, she held solo exhibitions at the Arts Council Gallery, Belfast ( 1975 ), the Orchard Gallery, Londonderry (1980) and the Art and Research Exchange, Belfast ( 1985 ).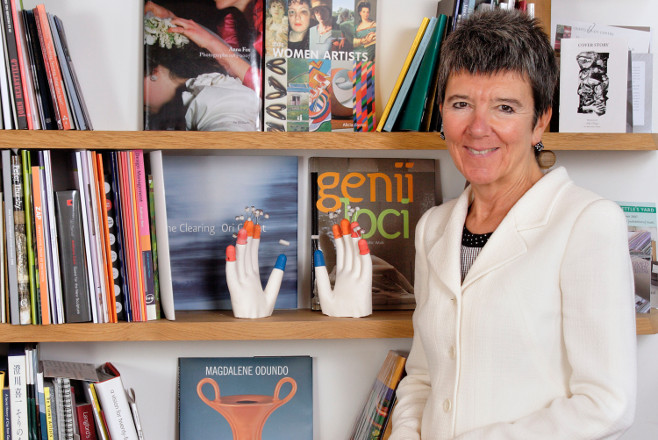 In 1996, she took up the post of Director of the School of Cultural Studies at Sheffield Hallam University. In 2000, she moved to Farnham, in Surrey, to become Director of the Surrey Institute of Art and Design, University College. In 2005, the Surrey Institute merged with the Kent Institute of Art and Design to create the University College for the Creative Arts and Elaine was appointed Rector. In the same year, she held a solo exhibition of new paintings, entitled " Palimpsest " at the
Lewis Elton Gallery
, University of Surrey. In 2008, Elaine became the first Vice Chancellor of the
University for the Creative Arts
( UCA ) In 2011, she was awarded a CBE for her services to Higher Education and made Emeritus Professor of UCA. Retiring in 2011, she began to fulfil her plan to return to creative practice. She has since held solo exhibitions at the University for the Creative Arts, Farnham, in the
Elaine Thomas Library
( 2013 ), the
According to McGee Gallery
in York ( 2014, 2016 and 2017 ) and the
Link Gallery
, University of Winchester ( 2014 ).